TOP TEN MOVIES THAT I LOVE
1.) Harry Potter and the Philosopher's Stone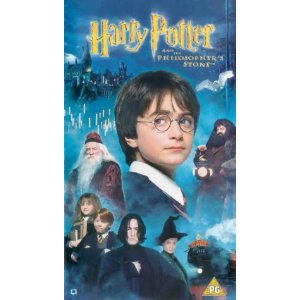 | | |
| --- | --- |
| Daniel Radcliff | Harry Potter |
| Emma Watson | Hermione Granger |
| Rupert Gint | Ron Weasley |
| Alan Rickman | Professor Severus Snape |
FUN FACT: J.K Rowling almost played Lily Potter!


This movie is about eleven year old Harry Potter who learns on his eleventh birthday that he is a wizard and must go to a wizardry school. Harry learns the true facts of how his parents died on how he got the lighting bolt scar on his forehead. He finds his two best friend Hermione Granger and Ron Weasley during this year and together they go through a series of task to try to get the Philosopher's Stone from an evil teacher with the possibility of facing an old enemy.
2.) Harry Potter and the Chamber of Secrets
| | |
| --- | --- |
| Daniel Radcliff | Harry Potter |
| Emma Watson | Hermione Granger |
| Rupert Gint | Ron Weasley |
| Tom Felton | Draco Malfoy |
FUN FACT: All the food in the Great Hall Scenes are real!


During Harry Potters second year at Hogwarts School of Witchcraft and Wizardy he now has his best friends little brother crushing over him, a famous teach who believes Harry is trying to take his spotlight, Draco Malfoy who has always hated Harry and oh a creature in his building who has declared 'Enemies of the Heir Beware'. Now Harry thought he was finished with evil things but to top it off he know how a house elf named Dobby trying to injure him so he doesn't face the beast.
3.) Harry Potter and the Prisoner of Askaban
| | |
| --- | --- |
| Daniel Radcliff | Harry Potter |
| Emma Watson | Hermione Granger |
| Rupert Gint | Ron Weasley |
| Matthew Lewis | Neville Longbottom |
FUN FACT: The characters ditched their school robes for the first time in this movie!


Third year for Harry Potter has not started out well. First he blew up his Aunt and sent her flying out his Aunt and Uncles House. Then he runs away to the Leaky Cauldron where he finds out that a criminal Sirius Black is after him. Finally on the Hogwarts Express he almost gets his soul ripped out of him if it wasn't for Professor Remus Lupin who went to school with Harrys mother and father. Now during the school year Harry tries to find Sirius Black in order to find out why he betrayed his parents and got them killed.
4.) Harry Potter and the Goblet of Fire
| | |
| --- | --- |
| Daniel Radcliff | Harry Potter |
| Emma Watson | Hermione Granger |
| Rupert Gint | Ron Weasley |
FUN FACT: Alan Rickman wore black contacts to play his role as Snape


Fourth year of Harry Potters journey as a wizard starts off alright. Two other magical schools Durmstrang Institute ,an all boy magical school, and Beauxbatons Academy of Magic have came to Hogwarts School of Witchcraft and Wizardry for a tournament called the Triwizard Tournament. The three champions are: from Durmstrang Viktor Krum, from Beauxbaton Fleur Delacour and the first Hogwarts champion Cedric Diggory. Somehow Harrys name gets put into the Goblet and he has to compete in the three dangerous task that could kill him. First Task he had to battle a dragon, second task he had to dive into the black lake and save one of his best friend, third task he had to go in a maze battle whatever creatures was thrown at him. But during the third task a change occurs and Harry Potter and the other Hogwarts champion Cedric are transported into a graveyard where Cedric is killed by Lord Voldemort himself and Harry battles him before he is transported back to school.
5.) Harry Potter and the Order of the Phoenix
| | |
| --- | --- |
| Daniel Radcliff | Harry Potter |
| Emma Watson | Hermione Granger |
| Rupert Gint | Ron Weasley |
| David Thewlis | Remus Lupin |
FUN FACT: Daniels eyes were digitally altered when he was in his possession scene!


After the past year and seeing his fellow classmate be killed Harry hasn't heard from any of his friend all summer. After his cousin Dudley and him are attacked by Dementors Harry gets expelled from Hogwarts. The day after he is rescue by the Order of the Phoenix which is a secret organization that Professor Dumbledore has created in order to rebel against Voldemort and his band of Death Eaters. After Harrys trial he is cleared and able to go to school only to find that a woman from his trial is now his Defense against the dark arts professor and isn't allowing them to practice magic. As Umbridge, the new teacher, slowly takes over the school by getting Dumbledore taken out Harry and his friend make a younger version of the Order of the Phoenix to teach the kids magic which they name Dumbledore's Army. After they get caught by Umbridge they fly to London to save Harrys godfather Sirius Black only to get caught by death eaters in the department of mysteries. As Dumbledores Army and the Order of the Phoenix battle the Death Eaters Sirius Black gets killed by his cousin who is also a death eater named Bellatrix Lestrange. Harry chases after her only to be trapped by Voldemort himself who tries to kill Harry but Dumbledore arrives. Dumbledore and Voldemort battle each other before Dumbledore defeats him and he leaves as Harry lays on the floor possessed with Voldemort himself.
6.) Sleeping Beauty
| | |
| --- | --- |
| Mary Costa | Princess Aurora |
| Bill Shirley | Prince Phillip |
| Eleanor Audley | Madleficent |
FUN FACT: Prince Phillip was named after the real England Prince Phillp!


As baby princess Aurora was known all over the Kingdom even by the evil witch named Maleficent. On the day of her coronation Maleficent appears and annouced a curse. On the princess's sixteenth birthday she will prick her finger on a spinning wheel and die. The King and Queen quickly hide Aurora with the three magical fairies named Flora (the red one) Fauna (the green one) and lastly Merryweather which is the tiny blue one. For sixteen years the Fairies used no magic to teach Briar Rose, Princess Aurora, and raise her. Now on the eve of her sixteenth birthday Briar Rose meets a handsome strangers and tells her 'aunts' she wishes to marry him. Then they tell her who she truly is and how they must go back to the castle. Now Maleficent has been tracking the fairies and when she sends her trusty crow out to snope she leads Maleficent to the cottage where she traps the handsome stranger who is truly Prince Phillip who is to marry Princess Aurora. As the fairies take Aurora back to the castle they leave her alone where she is put into a trace and follows a green light which leads her to Maleficent who has tricked her into pricking her finger. As the fairies put everyone in the Kingdom into a deep sleep they rush off to find Prince Phillip and help him defeat Maleficent.
7.) Beauty and the Beast
| | |
| --- | --- |
| Robby Benson | Beast |
| Paige O'Hara | Belle |
| Jess Corti | Lefou |
| Rex Everhart | Maricuet |
FUN FACT: Belle is the only one in her village that wears blue!


This movie takes place in 18th century French. A beauty girl named Bella lived in the world of her favorite books and tries her best to repel any romantic advances of Gaston, the muscle-bound in her life. Belle's father is an inventor and sets off on a journey through the forest and takes a wrong turn and is taken hostage at a castle where the Beast lives. The true story behind the beast is that he refused to help and old lady because of how ugly she was so she transformed into her true witch form and cast the spell on the handsome prince to turn him into an ugly beast until he finds true love. When Belle goes off to find her father she trades her life for him and becomes the Beast prisoner and sets her father free. Thinking she'll be locked away she is given a room with wonderful clothing and even a huge library. But once her father goes back into town and tells Gaston what happens he sets up a town hunt to go to the beast and kill him. They rescue Belle but she returns just to find Gaston and the Beast fighting. When Beast gets cut he turns into his true form where Belle confesses her love for him.
8.) Harry Potter and the Half Blood Prince
| | |
| --- | --- |
| Daniel Radcliff | Harry Potter |
| Emma Watson | Hermione Granger |
| Rupert Gint | Ron Weasley |
| Evanna Lynch | Luna Lovegood |
FUN FACT: J.K Rowling had put in the script that Dumbledore is gay!


Harry Potter's sixth year at Hogwarts won't be any different from his other, Something is making Dumbledore's hand turn black, Malfoy is acting creepy and sneaking off out of the school at night and lastly there is a new teacher who is trying to collect Harry because he is famous. As Harry enters his sixth year he has a feeling that ever since Draco's father was put into Azkaban that Draco is now a death eater. Harry has began lessons with Dumbledore to learn more about Lord Voldemort's past from when he was a boy known as Tom Marvolo Riddle. As one of Harry's assignment he has to get the truth out of his Potions teacher. During this process he finds an old potions textbook which turns him into a potions master but also causes trouble when he and Draco Malfoy battle and he injures Draco badly. One night Dumbledore takes Harry to go find a Horcrux, which is a magical item that Voldemort himself made so he could never die. When they return to Hogwarts Dumbledore hides Harry as Draco appears with other Death Eater who end up killing Dumbledore.
9.) Harry Potter and the Deathly Hallows Part 1
| | |
| --- | --- |
| Daniel Radcliff | Harry Potter |
| Emma Watson | Hermione Granger |
| Rupert Gint | Ron Weasley |
| Ralph Fiennes | Lord Voldemprt |
FUN FACT: The characters who play Bill Weasley and Mad-Eye Moody are in real life father and son!


Time has finally come for the Golden Trio, Harry Potter along with Ron Weasley and Hermione Granger to go out and find all the other Horcruxes so they can finally kill Voldemort once and for all. But before they can leave they of course have to go to Rons brother Bills wedding. He is going to be marrying Fleur from the Goblet of Fire. But when the Minister of Magic is killed and death eaters invade the party the trio quickly leaves to Sirius old house. As they try to find out where to get the rest of the Horcruxes they deal with a great deal of stress and anxiety. After getting the real locket for Umbridge at the Ministry of Magic they all take turns wearing it and it ends up amplifying their anger and sadness for being away from their families and having to be on the run and it ends up causing problems for them and it even leads to them being caught.
10.) Harry Potter and the Deathyl Hallows Part 2
| | |
| --- | --- |
| Daniel Radcliff | Harry Potter |
| Emma Watson | Hermione Granger |
| Rupert Gint | Ron Weasley |
FUN FACT: Daniel Radcliff often showed up drunk to film!